Contact Us

Attorney at Law - Lawyer

Dublin, Ohio

Office Location: My office is located in the Muirfield Square Office Center in Dublin, Ohio, a northwest suburb of Columbus, Ohio. Please see the directions and maps on this page for your assistance in locating my office.

Address:
Kenneth R. Sechler
Attorney at Law
6135 Memorial Drive, Suite 105A
Dublin, Ohio 43017-9014
Phone:
614-889-0234
Fax:
614-923-9006
Email:
Ken Sechler
Please Note: The transmission of an e-mail message to me does not create an attorney-client relationship. Please do not send me confidential or privileged information until you speak with me and get authorization to send the information. Also, e-mail communication on the Internet may not be secure. Please see the Disclaimer page for more information.

Directions to Office: The Muirfield Square Office Center is located at the intersection of Muirfield Drive and Memorial Drive in Muirfield Village.

Take I-270 to U.S. Route 33 and State Route 161 West - Marysville exit, exit 17B.
Take Routes 33 and 161 1.0 mile to the Avery-Muirfield Drive exit.
Take the Avery-Muirfield Drive North exit and turn right onto Avery-Muirfield Drive. Follow Muirfield Drive for 2.9 miles. At 0.7 mile the road name changes to Muirfield Drive, and Avery Road veers to the left.
Turn left onto Memorial Drive, which is 0.8 mile past the round about at the entrance into Muirfield Village. The Muirfield Square Office Center is at the intersection of Muirfield Drive and Memorial Drive. Muirfield Square is on the left after turning onto Memorial Drive.
Take the second entrance on the left (0.1 mile) to Muirfield Square to the 6135 Memorial Drive Building.
Map of Office Area: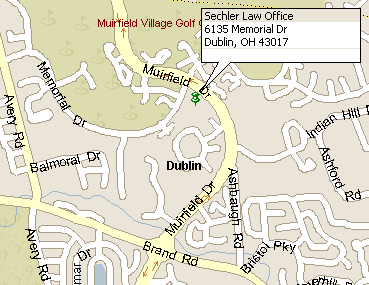 Copyright © 1988-2003 Microsoft Corp. and/or its suppliers. All rights reserved. http://www.microsoft.com/streets © Copyright 2002 by Geographic Data Technology, Inc. All rights reserved. © 2002 Navigation Technologies. All rights reserved. This data includes information taken with permission from Canadian authorities © 1991-2002 Government of Canada (Statistics Canada and/or Geomatics Canada), all rights reserved.
End User License Agreement for Microsoft Street & Trips 2004 permits limited posting online by licensed user.
Map of Muirfield Square Office Center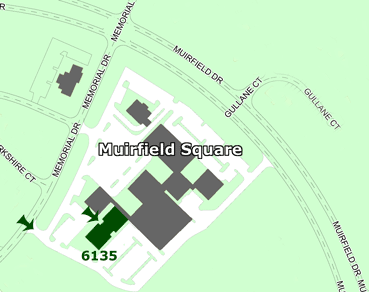 6135 Memorial Drive

Dublin Events:

2017

St. Patrick's Day

March

Memorial Golf Tournament

May 29-June 4

Independence Day

July 4

Irish Festival

August 4-5-6

2016

St. Patrick's Day

March 12

Memorial Golf Tournament

May 30-June 5

Independence Day

July 4
Irish Festival

August 5-6-7

Major Dublin companies include Cardinal Health, Ashland, Nationwide Insurance, Online Computer Library Center, Express Scripts, Fiserv, OhioHealth and Dublin Methodist Hospital, CareWorks Family of Companies, NCO Financial Group, Nexeo Solutions, and The Wendy's Company.